Located 12km from Mbarara on the road to Kampala, this cultural village features the best museum displays in Uganda. There's a restaurant serving traditional Ankole dishes, such as smoked Ankole cow's milk and boiled meats. There's also a new on-site hotel that will give an amazing African safari-like experience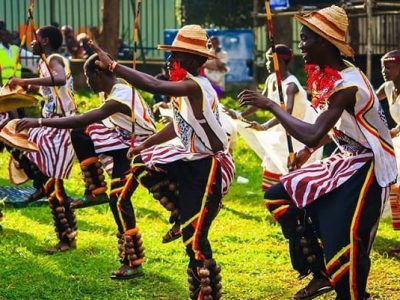 Igongo Cultural Center and Museum is a private run tourism center of attraction in Uganda that is worth a visit by Uganda safari travel enthusiasts. The Igongo Cultural Center is located along Masaka highway in a location of about 12 kilometers before Mbarara central business district. This state of art cultural center is prominently known for its Erijukiro Museum that features collections from all the cultures of south western Uganda.
Besides the cultural museum, the center has a well set Kahwa Kanuzire restaurant that serves delicious traditional cuisine in traditional equipment to allow travellers on safaris in Uganda to have a taste of African tradition. This restaurant is a perfect lunch stop for travellers connecting to and from the destinations of south western Uganda including; Bwindi Impenetrable National Park famous for gorilla trekking safaris in Uganda, Queen Elizabeth National Park famous forwildlife safaris in Uganda among other tourist areas.
Igongo Cultural Center has gone ahead to setup Igongo Country Hotel that offers overnight stay to travellers on safari holidays in Uganda. It is an ideal accommodation establishment that is located at a distance from the urban noise of Mbarara town but offering a close link to the road connecting to various desirable tourist destinations including Lake Mburo National Park.
Most of the employees are from local communities in the area, so the Igongo cultural center is a source of employment for locals and a market for local farmers as well. So whatever money you spend is eventually going to the community, good deeds manifest in many ways
The gardens of Igongo cultural center cannot escape to be mentioned as they have always amazed travellers on Uganda safaris. The magnificent sculpture of Mayenje g' Ishinjo, an ancient historic cow that sparked off the war between Buhweju and Nkore Kingdoms, the sculpture of Ishe Katabazi a re-known man who applied a lot of survival tactics in a comic way and not forgetting the lush gardens that gives a true taste of the African green landscapes. The combination of these makes Igongo Cultural Center worth to be included on the list while planning a safari tour to Uganda.