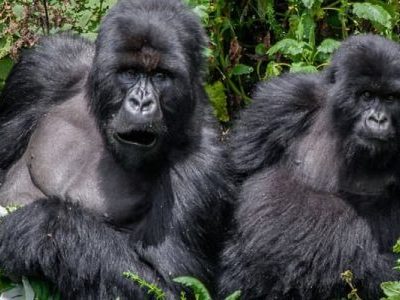 Bwindi Impenetrable National Park is one of East Africa's most famous national parks. Set over 331 sq km of improbably steep mountain rainforest, the park is home to an estimated 340 gorillas: undoubtedly Uganda's biggest tourist drawcard.
Gorilla tracking in Bwindi gives you an exceptional trekking experience while on yout tour and Uganda safari. With our expertise in organising gorilla permits, pre tour advise, you will find this website usefull.
Gorilla tracking entails hiking long distances in steep and sometimes wet and muddy vegetation and can be tiring. For the best experience, participants are advised to pace themselves, and follow your guide's advice at all times. As you enter the forest however, it is stunning and magical fairytale world of diverse features and creatures with ancient trees, lobelias, many birds and butterflies species, as well as primates and other mammals. And your specialist guide, many of whom have lived in this forest for years and years, always makes it more interesting and enjoyable with tales about the forest, its inhabitants and secrets of its hidden treasures; did you know that gorillas are vegetarians, they do not drink water and a fully grown male (silverback) can be as strong as 8 men, and so much.